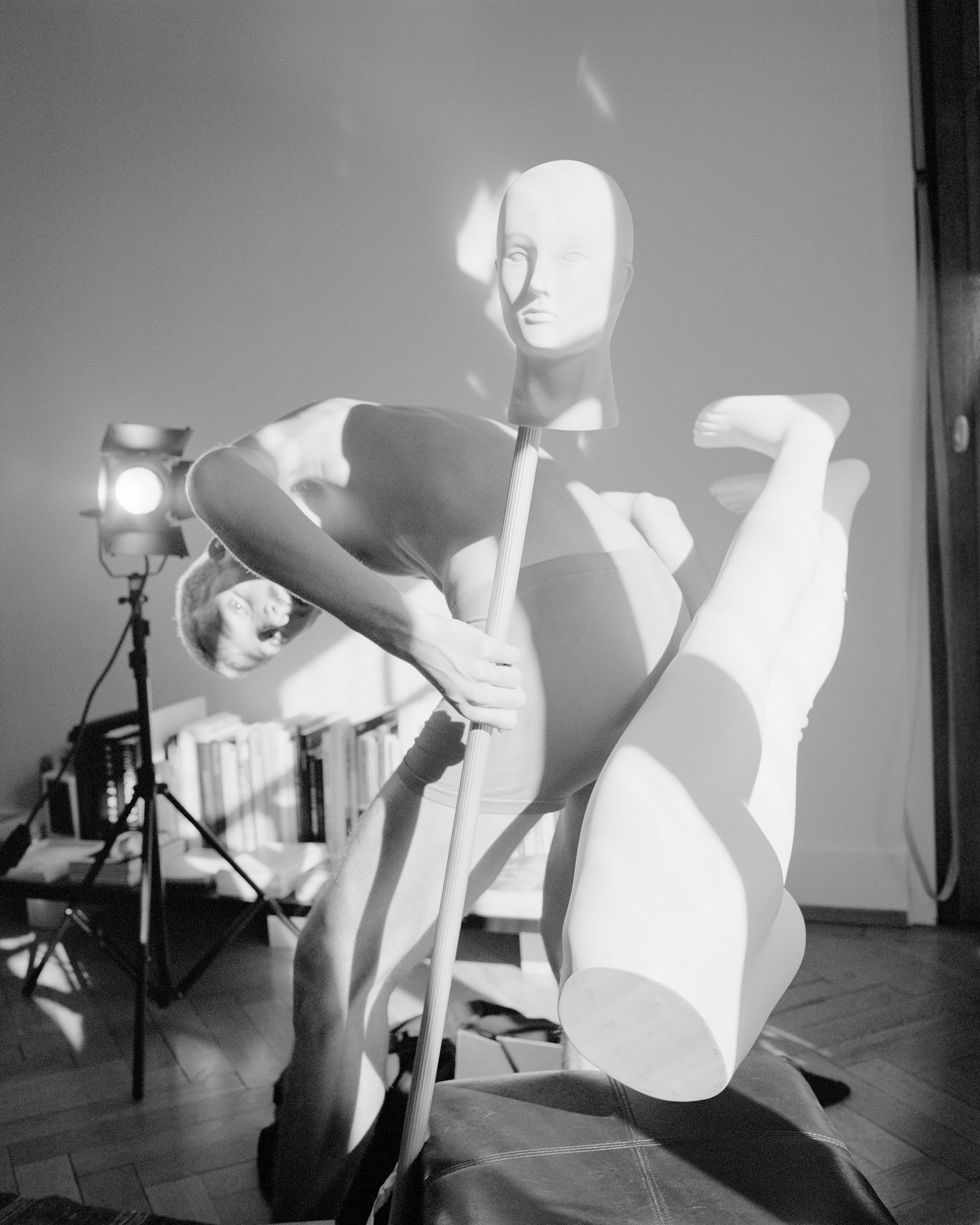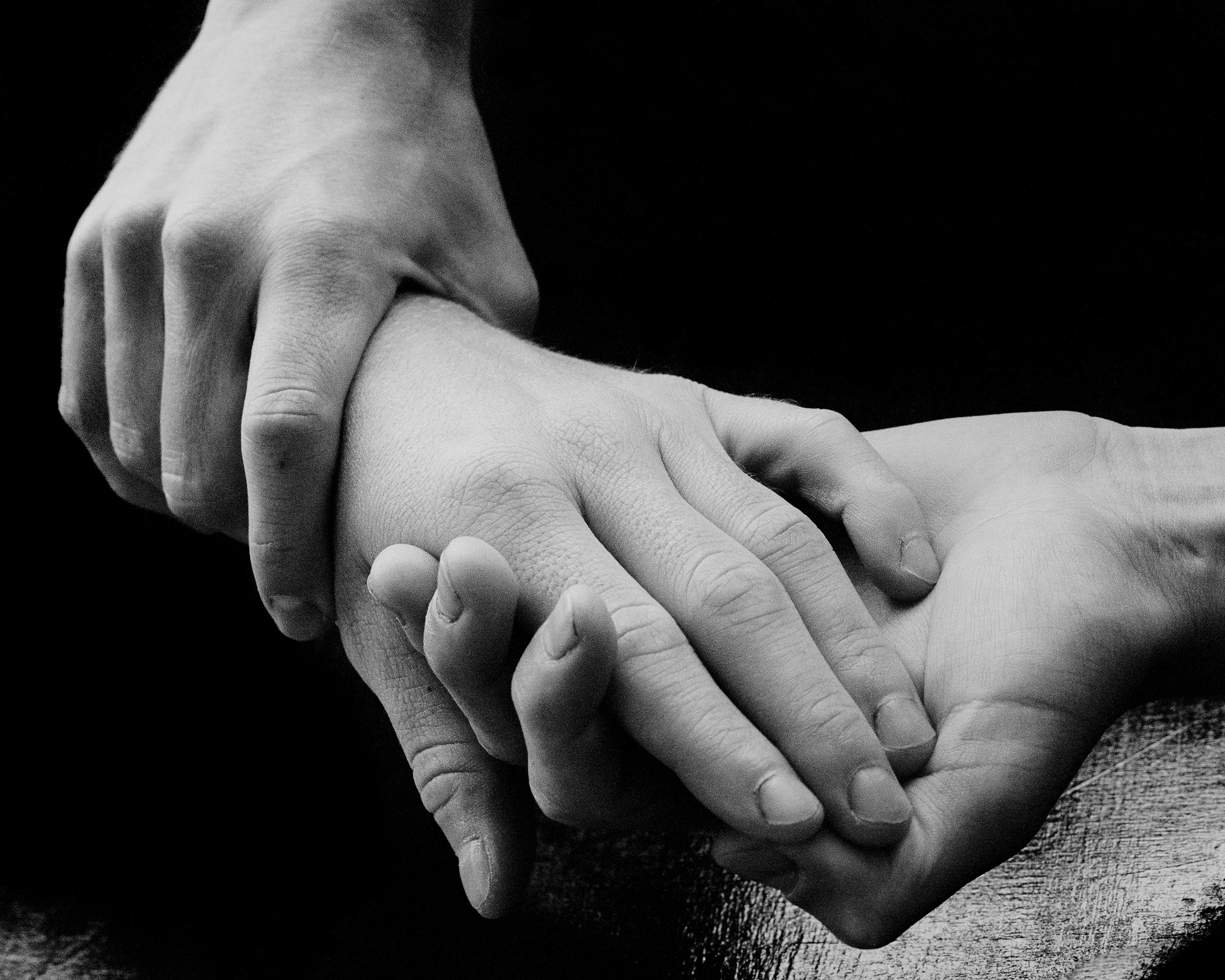 " The images in

Everything goes dark a little further down

are weird and playfully, deliberately perverse. An array of body parts are seen in fragments throughout – torsos appear without arms, feet crush heads, bodies contort, faces melt, brains explode. In one self-portrait, the artist has manipulated the photograph to make his head appear severed but alive, his eyes still alert and staring into the lens. In another, he holds a mannequin, kissing it, and in it that act creates his own, disturbed version of a mirror image – one side flesh and blood, the other just soulless plastic. Elsewhere, Croizier draws a grid across his body in thick, black marker, echoing pictures from the medical and pseudo-scientific archives he spent time devouring for research. "The body is primordial in this work," he says. "Our own body is the most ordinary thing to each of us, and yet the most secret. Bodies are beautiful, unique and political. In reference to anatomical iconography, I try to deconstruct normative representations of the body, with a view of asking questions such as 'to what extent is a body a body?' and 'how can it free itself from the norms that constrain it?'"

"To me," he muses, "this work is a celebration of the renunciation of being normal." It's a project for anyone who's ever had the guts to truly, monstrously, fabulously, be themselves.

Extract from a text written by Joanna L. Cressell, published in

Lens Culture

, August 2021




" I want my images to stimulate something unconscious in the spectator – something almost physical – and I want them to walk a fine line between repulsion and attraction, beauty and ugliness, pain and pleasure," says Swiss photographer Matthieu Croizier. "I want to find that precarious balance between opposites."

Taking visual cues from an array of cultural sources, the 26 year old ECAL graduate lets his imagination run wild when taking pictures. Inspired by everything from 19th Century medical archives and freak shows, to cult classic horror like David Lynch's Eraserhead, he explores the idea of monstrosity in relation to his own queerness.

Croizier grew up in Geneva, Switzerland, and came out as gay when he was 19 years old. "Accepting who I am took time, because I grew up in a very straight environment," he says. "Even after coming out I didn't embrace my queerness until more recently, and I still feel the need to fight against heteronormative pressure a little bit more everyday." His photography practice has been instrumental in helping him achieve that goal, and after several years of making images and experimenting in front of the lens, his major project Everything goes dark a little further down emerged.

"To me, Everything goes dark is a love letter to the abnormal," Croizier says. "I started to work on this project during my last year of my Photography BA at the end of 2019, and I was first interested in the representation of monstrosity as the anti-norm, so I started to explore in that direction." Fascinated by the queer community's reappropriation of stigmatising terms such as 'freak' and 'faggot', he looked to visual ways of representing that resistance. "The idea was to build a kind of monstrous show with what I had at hand, in order to highlight that normal and abnormal are only social constructions, and that the image plays a very important role in this: it is only a matter of how we show things that makes them normal or not."
In his photographs, Croizier fragments, distorts and draws upon his own body parts, constructing surreal and pseudo-scientific scenes where his head and hands, ears and feet become the centre of his studies. Turning the camera on himself, he says, was a big step towards the freedom of self-expression he'd always sought. "I had never dared to take self-portraits before, but for this project it just made sense, and I wanted to use my own body as material." Working alone in his apartment, he felt free to explore his body, and using an analogue camera meant he couldn't see what he was doing, which helped him let go of self-control.
Croizier is now working on publishing his first photobook with Mörel Books, and has been busy translating his eccentric visual style into commissions for an ever-growing roster of designers and brands. Other than that, he plans to keep working on

Everything goes dark

, "because the questions I'm asking myself with that work are just not answered yet," he says.
Text written by Joanna L. Cressell, published in

The

British Journal of Photography

, September 2021

"What is so disarming about Croizier's photographs is the ways in which they destabilise a sense of perception. They are orientated in the physicality of the body, where he often creates tension and ambiguity, to reflect the complex and sensate experience of being human."

Gem Fletcher, Photography Director of Riposte
The photographs depict an extraordinary act of metamorphosis. Fragments are melded together to create something new that conjures up visions of Mary Shelley's Frankenstein and Claude Cahun's shapeshifting expressions of identity. Our sense of perception is destabilised as he uses the photograph as a space to shape and complicate notions of self-representation.
Extract from a text written by Gem Fletcher, published in

Creative Review

, february 2021